Praetorium Latobicorum's Hideo
Curly Coated Retriever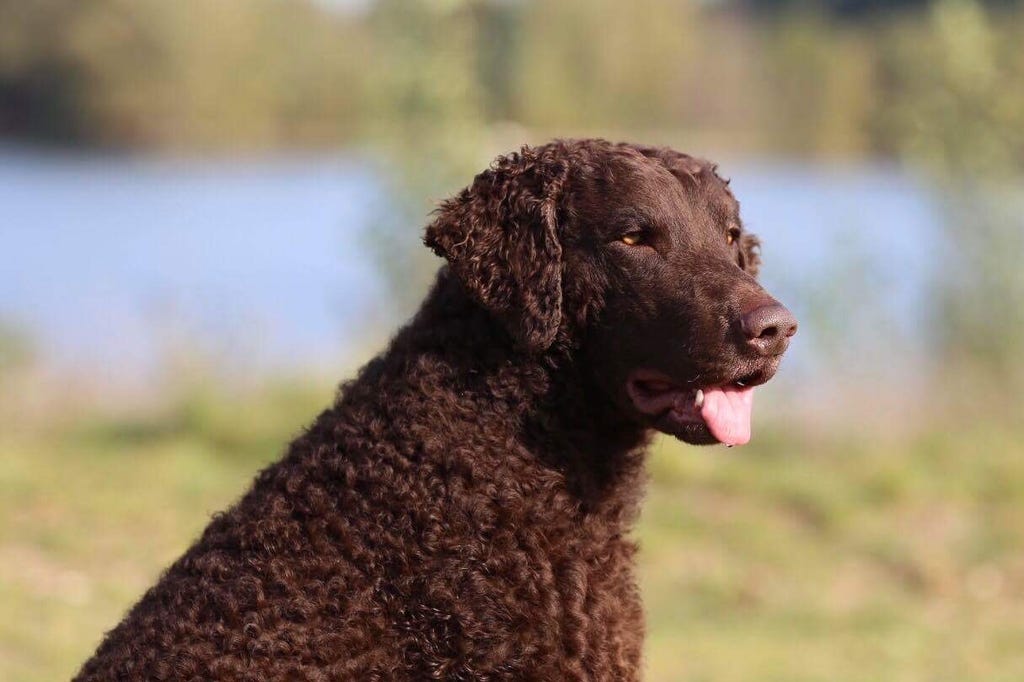 Ozzy
Ozzy is a easygoing, but still a bubbly curly male. He's eager to work and likes to do it with/for me.
Sometimes he tends to do a gag and to be a clown. He's very alert without being a barker.
He likes to be petted by strangers, but mostly ignores them. He's kind of a "people user".
However, he's very friendly to people known and unknown and he loves kids, especially my nephew (born in april 2017).
He's not very much interested in other dogs. He's not spoiling for a fight, but would reprimand a brash dog. He loves Echo, my Chesapeake Bay Retriever, even though she doesn't really appreciate him.
After youngster and everyday life training, we attend(ed) the "Begleithundetraining" and dummy training. When we have to much free time we do some dogscooter or mantrailing.

Ozzy got the breeding licence under the FCL (Fédération Cynologique Luxembourgeoise), member of the FCI. He has all necessary health tests done and passed. Furthermore he passed the caracter test (Wesenstest) and the breeding valuation (Formwert) of the DRC e.V.
Ozzy has passed a few obedience/dummy tests, among these the 'Begleithundeprüfung' and the 'APD A' (Dummy test in beginner class).

Ozzy in the curly coated breedarchive database: click.



PEDIGREE

Gamesmere Gambling Man
Hnup Curl von Britho
Ginny-Curl von Britho

The True Love Turnberry von Britho
Groomswood Sir d'Orient
Gamesmere Black Velvet
Gamesmere First Lady

Middog's Eliott
Heatermead Huxley
Anatnaq Arthur
Caballus Quantana Mera
Middog's Ashanti
Moselund's Kojak
Aargold's Browncurled Sandpiper
Capercaillie's Divine Light


Darelyn Double Dutch
Caballus Fair Dinkum
Caballus Out for a Blaze
Beselfolk Alkamen
Blazeaway Bowser
Caballus Que Si Que No
Caballus La Gala

Heidi Angels of Baranya

Capercaillie's Hermes
King-Kong z Vlci stepi
Fanto-Heimen's Bouvet Excellence
Amalka sv. Huberta
Orlando-Curl of Fundy Bay's Naid
Otka z Ledenickych Zahrad
Eli z Vlcich Luk